You can manage these even if you burn water.
There's an alarming number among us who claim they can't cook. But there's no reason to fear the kitchen if you are armed with the right recipe. 
Cooking is truly an art. Some people have a knack for it, and others just don't. And just because you're not a culinary expert doesn't mean you have to miss out on one of the finer things in life— dinner date food.
Dinner dates are one of the most classic signs of romance. Everyone has a picture in their head of what it should look like. There are usually candles, low lighting, cloth napkins, several forks and delicious food. To most people, dinner dates usually take place at restaurants, but there is something to be said for having a dinner date at one person's house. There is still a romantic mood, but rather than the passionate sort of romance a fine restaurant implies, dinner at home suggests a level of comfort and intimacy. It is the difference between coy smiles and snuggling on the couch. 
Many people would enjoy having a dinner date and night in simultaneously, but some people run smack into one very big problem. They cannot cook to save their soul. They are the people who somehow manage to ruin grilled cheeses and canned soup. If the food is meant to be crunchy, it is soggy. If the food should be moist, it is burned. If you are the sort that can burn water, your partner is likely aware of your difficulty. That is no reason, however, to avoid a dinner date or even to avoid cooking. There are recipes that are easy enough that anyone can make them but delicious enough to be worthy of a date. Here are the best dinner date recipes for people who cannot cook. 
Cookie Sheet Dinner
When it comes to the kitchen appliances that are the least likely to blow up in a poor cooker's face, the oven is toward the top of the list. Stovetop dishes are just asking for trouble, and there are few good recipes that rely on the microwave. There are also only so many times you can serve your significant other cold meals before they start to want something warm. Thankfully, the oven is reasonably easy to handle so long as you can hear the timer go off.
Earn $50 right away with by signing up here:
Cookie sheet dinners take advantage of the size of the oven and the fact that you can cook just about anything in an oven. To make a cookie sheet dinner, get out a clean cookie sheet and spray it with some cooking spray. Now, cut up some vegetables and lay them on the cookie sheet. Drizzle a bit of olive oil on the veggies and sprinkle them with some spices. Do not go overboard. A little spice goes a long way. Next, place some meat or fish on the cookie sheet. You can either mix it in with the veggies or keep them separate. Rub a tiny bit of salt and some pepper or a decent spice mix on the meat. Preheat the oven to 350 degrees Fahrenheit. When the oven is done heating, put the cookie sheet of food in the oven and cook until the meat is done. These dinners are that simple, but they taste fabulous.
Microwave Risotto
Everyone knows that nothing impressive cooks in the microwave. Well, unless risotto has suddenly been equated with ramen or frozen TV dinners, everyone is wrong. This risotto dish tastes like what you would find in a fine restaurant, but takes a fraction of the time. 
To make microwave risotto, chop up an onion and a few cloves of garlic. Toss with one or two tablespoons of olive oil in a microwave-safe dish. Microwave the mix for three minutes. Mix one cup of Arborio rice with the garlic and onion, and microwave the mix for another three minutes. Pour one third of a cup of white wine over the rice, onion and garlic mix. Stir the mixture, and add three cups of chicken broth. Microwave for 16 minutes, stopping every four minutes to stir for about 30 seconds. After the 16 minutes is up, remove the dish from the microwave and add about half a cup of parmesan, mozzarella or asiago cheese. Stir the cheese into the hot risotto until the cheese is melted. You can stick the dish back in the microwave for another minute or two if needed. 
To make the dish a full meal, add veggies or cooked meat to the dish with the wine and chicken broth. You may end up needing to cook it a bit longer if you used additions that release a lot of juice such as portabella mushrooms. You can also substitute red wine for white wine or beef broth for chicken broth depending on your preferred taste. The result is delicious either way, and it sounds incredibly impressive to tell your significant other you made risotto for dinner even though the dish only takes about 30 minutes to make. 
BUSINESS WEBSITES
We are a top notch web design company, building affordable, stunning and high quality business websites. We understand that your business website is central to your brand identity, reputation and how clients

Drive traffic to your website and get followers and likes to your social media account. Let WAO Host advertise, promote, and strengthen the presence of your business. We can certainly get your website on the first page of Google for more information.
Visit www.waohost.com / Tell: 011 492 0828 / WhatsApp: 073 641 9751 / Email: Orders@waohost.com
Seared Tuna
Seared tuna is another dish that sounds extremely impressive to offer to a significant other but is actually one of the easiest things in the world to make. The biggest potential problem with the dish is actually making sure you have a good cut of tuna. Seared tuna involves rather minimal cooking, so you need to make sure you have a high grade of tuna to avoid any potential for foodborne illnesses. If you are unsure of what to buy, ask those who work in the fresh meat and seafood section of your grocery store. It is normally a good idea to avoid farm raised fish in general, but this is especially important when making seared tuna. Farm raised fish is far more likely to contain pollutants, and the farming of large fish such as tuna is an environmental nightmare.
Once you have your cut of fish, pour just enough oil into a saucepan or frying pan to cover the bottom of the pan. Heat the oil until it sizzles when you flick a drop of water into the oil. Do not add more than a drop or two of water to hot oil to check the temperature. If you add more, the hot oil will splatter and could burn you. If you are uncomfortable testing the oil that way, simply wait between 30 second and a minute for the oil to heat up. Adding the fish to already hot oil works best, but the tuna will still taste fine if you end up adding it too early.
Once you add the fish to the oil, you should hear the oil sizzling. Wait between 30 and 60 seconds before using a fork or tongs to flip the fish over. The side you pulled out of the oil should be the greyish-pink of cooked tuna and have a golden brown crust on it. If the crust has not formed or the tuna still looks more pink than grey, flip the fish again so that each side spends another 30 to 60 seconds in the hot oil. Remove the fish from the oil. You can set it on a paper towel to absorb the excess oil or serve it immediately. The finished fish should have a golden brown crust on the sides and be a bright to deep pink in the middle. Seared tuna is delicious over everything from rice to raw vegetables. For the best results, cook the tuna in a flavorful oil such as olive oil or toasted sesame oil.
Enchilada Casserole
Casseroles were pretty much invented for two reasons. First, to be able to make a meal out of all the scraps and bits of leftover ingredients you have hiding in the depths of your refrigerator and cabinets. Second, so those with absolutely no cooking skills would be able to have something hot to eat during the winter months instead of surviving off cereal. Enchilada casserole fits both of these requirements. 
You can put just about anything in enchilada casserole that would make sense in an enchilada. Beans, peppers, rice, onions, multiple kinds of meat and a variety of cheeses all work well. Regardless of the ingredients you choose, the process for making the dish is the same. Spray a casserole dish or baking dish with cooking spray. Then, add enough of your favorite enchilada sauce to the dish to cover the bottom in a thick layer. Lay corn or flower tortillas in the bottom of the dish over the sauce until they form a single layer without any gaps. If some of the sauce seeps through, that is fine. Then, add your fillings. If you wish, you can put another layer of tortillas between different fillings to keep the rice separate from the chicken. You can also simply put everything in one section. Be sure to use already cooked meat in this dish. The casserole will not bake long enough to cook raw meat all the way through.
Once all your fillings are in the casserole, create another layer of tortillas on top that covers all of the filling with no gaps. Dump more enchilada sauce over the top of the casserole and cook at 350 degrees Fahrenheit for about 15 minutes. Once the sauce is bubbling, remove the casserole and sprinkle some cheese on top. Put the dish back in the oven and cook for another five minutes. Remove the dish, cut the casserole and serve hot.
Shakshuka
Dishes with foreign sounding names are normally simply assumed to be more complicated than those with more easily pronounceable or more recognizable names. Thankfully, this Israeli dish is wonderfully easy to make. 
Shakshuka is one of those dishes that can be as simple or as complicated as you wish. You can make shakshuka with freshly ground spices, a cast iron skillet, fresh vegetables and a process that involves a mortar and pestle, several types of knives, the stove and the oven. You can also make it with nothing more complicated than a heat source and a can opener. 
To make easy shakshuka, first decide if you feel more comfortable cooking with the stove or the oven. If you are cooking on the stove, cut up garlic, onion and a red bell pepper. Place the veggies in a pan and add a can of tomatoes. If the canned tomatoes did not have much juice, add either canned tomato juice or some tomato soup. Cook until the liquid is bubbling. Then, crack two or three eggs into the liquid, doing your best to keep the eggs from touching. Leave the pan sitting on the heat until the whites of the eggs are cooked. To make it traditionally, serve the shakshuka hot when the egg yolks hold their shape but are still runny. If you prefer, you can cook the shakshuka until the yolks are firm or solid. 
The oven version of shakshuka is very similar. Once again, cut up the garlic, onion and pepper and mix it with canned tomatoes and as much tomato juice or tomato soup as necessary in an oven safe pan such as a Dutch oven. Instead of heating the mixture, crack the eggs into the mix immediately. Then, place the pan in the oven and cook until the eggs are cooked the desired amount. Serve immediately either alone or with couscous or pita bread.
Stuffed Veggies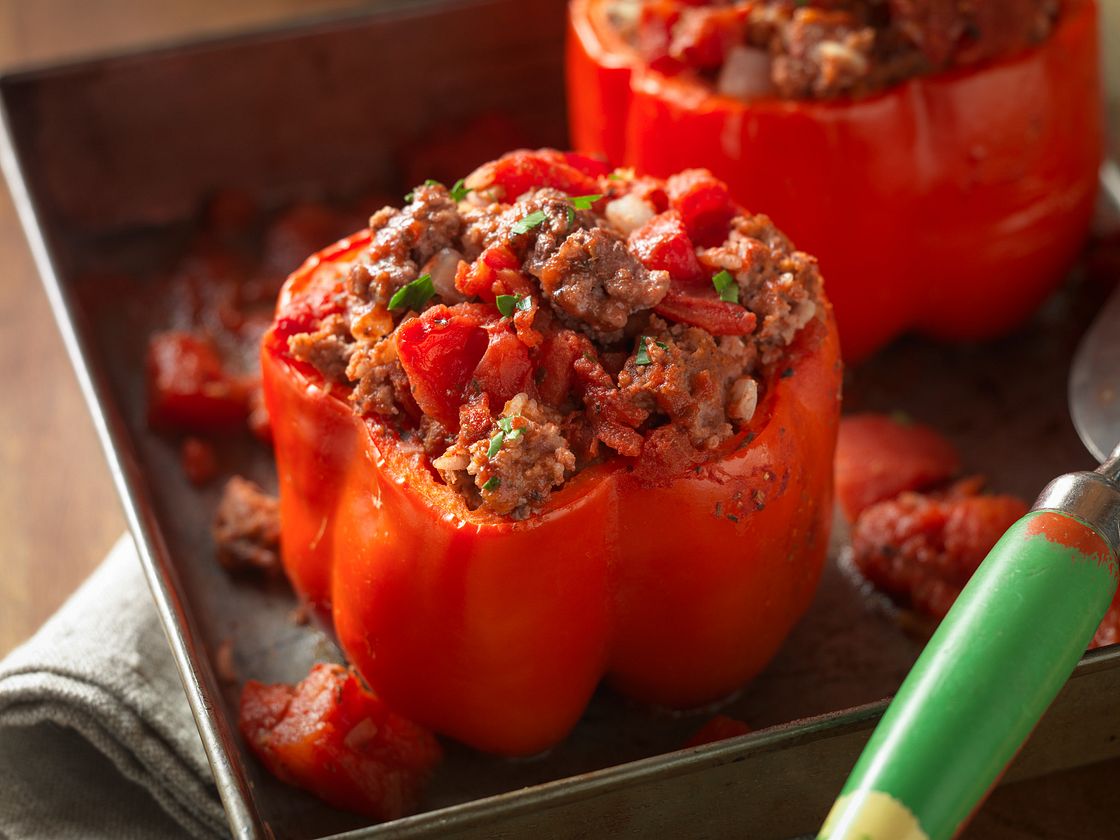 Stuffed veggies are a wonderful meal. They are healthy, filling, hearty and warm on chilly evenings. They are also wonderfully easy to make. As long as you can use a knife without accidentally removing your fingers and turn on an oven, you can make stuffed veggies. 
While there are some differences, obviously, between stuffing a skinny vegetable like a zucchini and a fat sweet potato, the basic recipe remains the same. Wash your vegetable and remove the stem. Then, you can either cut the veggie in half or, in the case of wider vegetables like bell peppers, simply remove the top of the vegetable. Scoop out the seeds, core or any other parts of the veggie you are not interested in eating. If you are using a plant that has a natural hollow such as a mushroom cap or bell pepper, fill the hollow with your choice of cooked meat, rice, beans, lentils, cheese or any other filling. Place on a greased cookie sheet and cook at 350 to 400 degrees Fahrenheit for 15 to 20 minutes or until the vegetables skin is starting to turn crisp or brown. For solid vegetables like sweet potatoes and eggplants, you may need to remove some of the inside of the vegetable itself before you can add the filling.
Delicious food does not have to be intricate or difficult to make. This is good news for those who cannot cook to save their souls. They can impress their significant other without potentially burning the house to the ground. These recipes may also end up being the jumping off point for those who cannot cook. After all, cooking is just like any other skill. Practice makes perfect, and everyone has to start practicing with something.