Try nature's RX for your skin to keep it healthy and clear.
Have you ever thought of eating healthy? All the time we talk about healthy food, healthy lifestyle, but do we actually follow it? No, and that is the reason why today we are in the grip of so many diseases. Many young people are found of fast food and ignore home cooked fresh and healthy food. This is the bad habit that affects our immune system. Good food habits not only make us healthy but also tone our skin and make it beautiful.
Love  Your Skin
What are the foods that make us have clear skin? Is it just good genetics —or can anyone have great skin? We've found seven good ones–maybe the kitchen is already stocked with these goodies. More research has been done over the years, and shows that certain foods impact the skin.  For example, taking in healthy fats helps the elasticity of skin. The unhealthy fats over time can cause wrinkles, as leafy greens and vegetables decreased wrinkles. Green tea, almonds, kale, peppers, blueberries, strawberries, sweet potatoes, carrots and dark chocolate all can boost and keep the skin clear. Besides food, we need to drink more water as this keeps our systems clean, keeps the skin supple and can help smooth out wrinkles. You may want to receive cosmetic treatments—totally understandable. But we can't discount that the earth was blessed with foods to nourish our minds and bodies. The different fruits and vegetables we have access to today are simply amazing. Try nature's RX for your skin to keep it healthy and clear.
Almonds
Call it a skin rescue. Almonds are loaded with vitamin E and nourish the skin. They have fatty acids, biotin, and copper to help the skin remain moist and clear. Never underestimate the this small, but powerful nut. Only having a handful of almonds instead of eating foods that are bad (ice cream or soda) for your skin, will pay you back with love. "Vitamin E assists in protecting the connective elastin and collagen fibers within your skin cells that maintain its youthful firmness. The more collagen and elastin break down in your skin, the more at risk you are of developing fine lines and wrinkles on your face." They also can help prevent sunburn! Walnuts can be another good nut. High in omega-3s, walnuts have anti-inflammatory properties.
Green Tea
Green tea is an anti-inflammatory and can reduce the risk of skin cancer and aids in revitalizing the skin. There is more! The antioxidant in green tea protects us from harmful effects of free radicals. Start drinking more green tea as it can also lower the risk of death and from heart disease. Dr. Shinichi Kuriyama at Tohoku University School in Tokyo told WebMD about his green tea research. "Our findings might explain the differences in mortality profile between Japan and the United States. The Japanese age-adjusted rate of mortality due to heart disease and stroke is about 30 percent lower than that of the United States."
Carrots
Carrots are not only for the Women's Health reported after interviewing professor of Howard Murad, M.D., a professor of dermatology at UCLA. "It helps prevent the overproduction of cells in the skin's outer layer." Carrots have vitamin A, C, beta carotene, and other antioxidants. They also can help repair the skin from the sun. Try oranges and eggs as well as this will also help with brown spots.
Flax Seed
Flax seed are plant-based loaded with omega-3 fatty acids. They have fiber, protein, vitamin B-1, and selenium. What does this mean for you? It means clear, healthy, and more moisturized skin! Dr. Josh Ax explained the benefits: "The ALA fats in flax seeds benefits the skin and hair by providing essential fats as well as b-vitamins which can help reduce dryness and flakiness. It can also improve symptoms of acne, rosacea, and eczema. This also applies to eye health as flax can reduce dry eye syndrome." Also olive oil keeps the skin glowing, so add this addition to flax seeds to salads and meals to keep skin supple, clear and moist.
Berries
Berries! Blue, red, black, oh my! The vitamin C, E, and A in strawberries, raspberries, blueberries, and blackberries are great for the skin. Also add avocados, greens, kale, broccoli, bell peppers, and sweet potatoes for an extra boost. They also can combat acne, too! Miami dermatologist Joely Kaufman-Janette said in an interview with Everyday Health that the skin is a mirror to the body. "Part of choosing a diet for good looking skin is just eating to keep yourself healthy because your health is reflected through your skin."
Tomatoes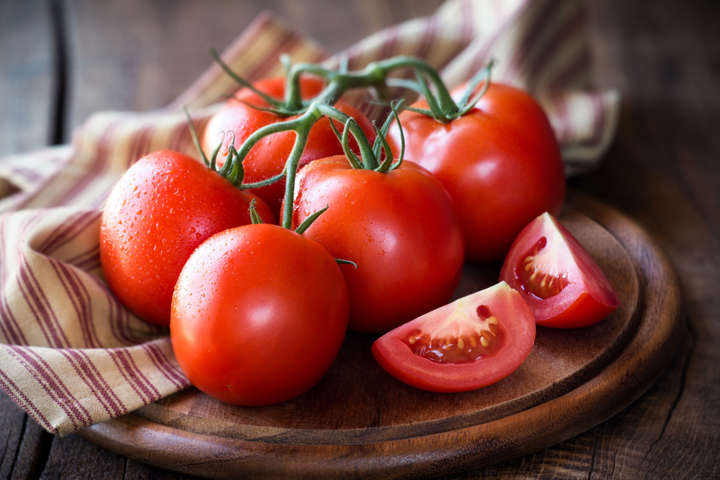 Tomatoes have lycopene and vitamins C, and A–good for the skin. The health properties are pretty great. WebMD listed the benefits. "Tomatoes contain all four major carotenoids: alpha- and beta-carotene, lutein, and lycopene. These carotenoids may have individual benefits, but also have synergy as a group (that is, they interact to provide health benefits).Tomatoes are rich in potassium, a mineral most of us don't get enough of. A cup of tomato juice contains 534 milligrams of potassium, and 1/2 cup of tomato sauce has 454 milligrams." Now that is something to celebrate and have a salad over.
Chocolate
Chocolate is a superfood for your skin like fruit is.  It contains antioxidants, flavonoids and polyphenols, which also will protect the skin from UV Rays. Dana Oliver is the Executive Fashion and Beauty Editor at the Huffington Post.  Oliver shared that chocolate is necessary to repair skin. Too good to be true?  "Iron, calcium and vitamins A, B1, C, D and E are among the many nutrients that we can obtain from dark chocolate. Swap out that extra cup of coffee or green tea for a cocoa-rich drink that will deeply moisturize skin and leave behind a healthy glow. Or you could slough away dead skin cells with a DIY chocolate body scrub made out of olive oil, brown sugar, cocoa powder and vanilla." Try organic  dark chocolate, and you don't need too much to get the benefits. Many  try it with organic wine for a really good boost to the system. Moderation, must be kept in mind with this superfood.  A good situation for healthy skin? You bet, and enjoyable, too.
BUSINESS WEBSITES
We are a top notch web design company, building affordable, stunning and high quality business websites. We understand that your business website is central to your brand identity, reputation and how clients

Drive traffic to your website and get followers and likes to your social media account. Let WAO Host advertise, promote, and strengthen the presence of your business. We can certainly get your website on the first page of Google for more information.
Visit www.waohost.com / Tell: 011 492 0828 / WhatsApp: 073 641 9751 / Email: Orders@waohost.com
Small Changes
You don't have to eat buckets of these foods for healthy skin, but make small changes.  Dr. Jessica Wu suggested that we should avoid crash dieting as this could lead to more than weight loss. Wu is the author of  Feed Your Face. She shared that  "foods get digested and broken down into vitamins, minerals and amino acids that your body can use to build healthy skin. If you crash diet or eat highly processed foods, your skin won't be as strong and supple as it could be." Again moderation, and you will be on your way to amazing skin. Go, and enjoy the new you.
CONCLUSION
Several online videos that are available will teach you some interesting recipes to give your family a healthy food. Even, healthcare professional recommend you to lead healthy life. If you are not sure of getting the appropriate ingredients in right proportions to make a healthy food for your overall health and skin, then get the advice of a dietician.
If you believe in our mission, please, support us (click here). 
___________
If you enjoy OfficialDivineA, sign up to our email list and we'll notify you about new articles as soon they come out. No spam, we promise.
Click on this link send us your love gift : https://officialdivinea.com/support-donate/
If you died today, are you absolutely certain that you would go to heaven? You can be! Click here and RECEIVE JESUS NOW
My Support Gift